Post by pezerologo on Mar 23, 2016 18:56:08 GMT
Hi all !!
This is the first of a series of articles to learn about the process leading an assembly of a biotope aquarium ... with some aquascaping.
I will try in this part of the documentation, an indispensable part for proper selection of inhabitants, as well as the appearance and other characteristics of the place.
In my case, I will use as an example it was easier, as the species and the habitat, was already selected in advance.
In addition, the aquarium is small and will be specific, so as to species I do not have many options, but going there.
Heterandria formosa
- In this picture I am very satisfied, it is not easy to see a birth of these fish. Much less getting caught with the camera.
The species is
Heterandria formosa,
a tiny viviparous that inhabits the southeastern United States. This data will give us the most books or forums where we consult regularly.
This would be a starting point for the next step, where we can find it. Its characteristic habitat is too shallow, little or no current, preferably sweet but also in places with some salinity water, need water or marginal vegetation for protection.
Here already you are envisioning, as can be that aquarium.
Thanks to the Internet we have access to many images from virtually anywhere on the planet.
This facilitates a simple search, to observe details of these ecosystems and be taking the concept for decoration and other aspects.
In my case I have located this biotope aquarium in
Big Cypress Reserve
. This is within the wetlands of the Everglades, it is a distribution point
Heterandria,
and is known for its cypress trees growing in swampy areas.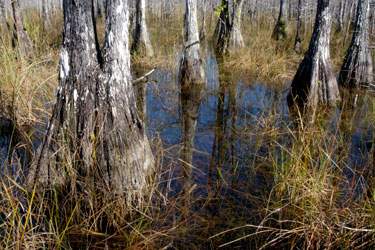 evergladesimagery.com
123rf.com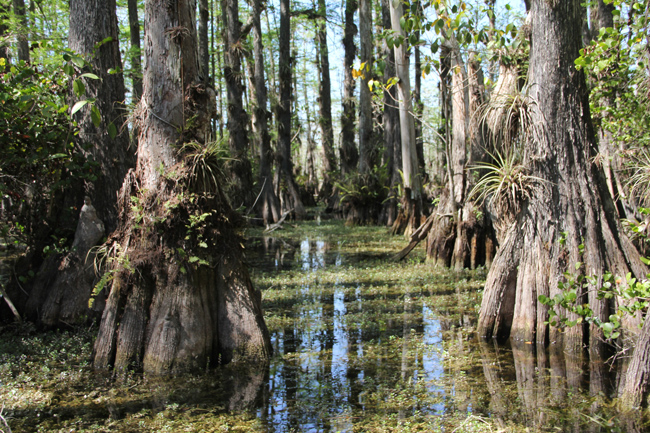 today.uconn.edu
earthfirstjournal.org
Through images we approach this place and visually know better, but the most valuable data shall find with other searches.
Being located in florida this habitat, a good start can be the search in forums aquarium clubs that state, government sites, state or universities.
They usually find information and images and may one ichthyological study or other scientific branch.
Gubernamental Web
University Web
These studies are one of the best sources of information first hand and are usually available for reading in PDF format. Many are extra, but many others are available and its pages will find the list of species that live in a particular place, its ecology, measurements of water parameters, presentation medium with data sampling locations, description of these places , water and surrounding vegetation, other animals in the environment, composition of the food chain, etc, etc.
As you can see only make you a summary it is complicated and my recommendation is that you, Take patiently reading. Fortunately these studies are very understandable and are accompanied by graphics, illustrations, photographs, tables or lists easier to understand, regardless of the language in which it is written.
Aquatic Fauna in Big Cypress 2011 Anual Report PDF
Storage portals videos, it is increasingly common to find underwater recordings from many places, we also find other films made by tourists or locals. It will help to know other viewpoints. And of course depending on the selected location, you may have made professional documentaries about the specific ecosystem.
As you have seen, in the part of the documentation, we learn much about the biotope chosen and an idea of how we could move between crystals should have formed in our heads.
One recommendation would be taking notes during various data such as species, plants or invertebrates, appearance, measurements, etc. What you believe convenient, it is well known that better short than long memory pen.
In the part of the decor, we will seek to emphasize different aspects, to get closer to the original biotope.
That is why a good source of ideas from which we can drink for inspiration, whether aquascaping or aquascaping.
In our next article, we will see step by step this biotope aquarium assembly, which serves as an example.
Gr3tings !!
Interesting Links
for information on biotopes and many more.