Post by pezerologo on Apr 23, 2015 20:37:21 GMT
Hi everyone !!
Today I will write on a more popular species, that is normally kept in community aquariums, here we are going to get a bit to one of biotopes fish inhabiting this easily satisfied.
This is the
Puntius titteya
also called Cherry Barb
It's kind that many have maintained or maintain and I hope this little article will encourage better understand this interesting species and raising any maintenance in the future.
It is very durable and has an attractive color, its easy reproduction and low price make the an interesting acquisition for the amateur who begins.
It is also an ideal inhabitant in Paludariums and who like few centimeters of water height, as in their natural habitat we'll know something more now.
It comes from the island of Sri Lanka and its distribution is relatively small and are located between the basins of the Kelani and Nilwala rivers as well as in the lagoons formed.
Where they are very abundant and it is not uncommon to find ponds or streams with very little flow in which there are hundreds of them in different sizes.
Sri Lanka is an orchard, on water and under it.
In the case in streams running through the rainforest can find huge colonies of Cryptocorine sp. where small Barbus seek shelter.
One of the largest aquatic predators who share habitat are the Channa sp. so that their survival depends on cunning.
In these streams the soil is clay and water carries large amount of suspended particles, leading to areas where there are only a few centimeters vision to others where the water is clear.
The large number of logs that fall into these channels, make small pools in authentic microhabitats, which also just locked other fish species as large anabantids, the Channa who commented before, Killis, cyprinids, etc.
The Kelani river is the longest in Sri Lanka with 145 km of travel and its watershed change much with the arrival of the monsoons, is when it floods and leads to huge full pond water lilies and floating plants, but this is another biotope I want to delve into another article.
An interesting Biotope for our serious aquariums imitate the small streams running through the rainforest. These are sometimes very dark due to canopy that grows on and other extremely bright due to direct exposure to sun light.
What is considered normal in both environments is the amount of fallen trees, branches, leaves, fruits and groups of plants growing as aquatic and creeping.
If we wanted to set up a tank of these characteristics and dedicated to the species we could devote an aquarium of about 60-100 liters. At this size we can make interesting productions.
For background are becoming more frequent quality substrates with different shades, for this would be very suitable aquarium brown color, with a tone to suit the consumer.
We will trunks and branches here and there, alternating with rocks, oak leaves or Terminalia, Cryptocorines Several copies in different parts of the aquarium, some java moss to provide a spawning site and some floating plants to dim light .
If we wanted a "dark" aquarium we can choose to illuminate with leds different parts of the aquarium, leaving other darker areas in these environments will highlight colorful titteya greatly.
Personally it's kind I have had and play several times, and in the future I would like to ride them an aquarium for them. They are easy to play and is a species that can give us great satisfaction, I'll put some photos to accompany the text.
I hope you like it
Kelani River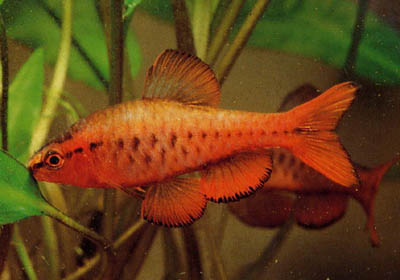 Puntius titteya
Gr3ttings !